Chrome OS 84 adds an Explore app and multi-window overview improvements
Chrome OS 83 hit the stable channel earlier this year in May and introduced a couple of new features to the operating system, including tab groups in the browser and virtual desk renaming. The update also brought along a new 'Show Password' icon to help you easily view your password/pin during login, the ability to control media sessions with the Google Assistant, and new Google for Families features with better parental controls. Now, Google has started rolling out Chrome OS 84 to the stable channel, with a new Explore app, multi-window overview improvements, and more.
The company recently announced the rollout in a blog post, which details some of the key new features in the latest Chrome OS update. The update introduces a new Explore app to the platform which is designed to help new users get a hang of the operating system. The app replaces Chrome OS's older Get Help app and gives you easy access to answers and visual tutorials to some of the most commonly asked questions from new Chromebook users.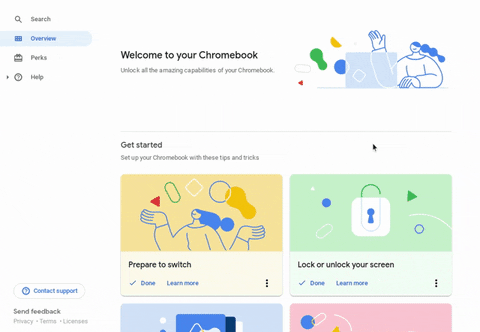 The Explore app also features a 'Perks' tab that gives you quick access to some of the best Chromebook perks. For instance, in the U.S. you can currently use the Explore app to get free access to 100GB of storage and more through Google One for a year, free access to Stardew Valley, and free three months of Disney+.
Along with the new Explore app, Chrome OS 84 also brings some improvements to the multi-window Overview experience which will let you easily drag windows from your Chromebook's screen to an external monitor and vise versa. Following the update, you'll also be able to split your screen from Overview for better multitasking. The Chrome OS update also brings new emoji to the platform, including a new yawning face emoji, an ear with a hearing aid, and a sari emoji.
While the blog post only talks about the aforementioned features, a post on the Chromebook Help forums details a couple of more changes included in Chrome OS 84. Here are all the changes included in the latest Chrome OS update:
Explore App Launch: Explore is a new app that will replace the Get Help app on your device. You can now explore help center content while being offline, get the latest perks for your device, and search directly within the app to learn more about your device.
Take photos with the volume buttons: When your Chromebook is in tablet mode, you can press the up or down volume button to snap a photo or start/stop a video recording.
Save Videos on Chromebooks: Videos captured in the Chrome OS Camera app will now save as MP4 videos. This makes it easier to use your recorded videos in other apps and while sharing with friends and family.
Overview Mode: When in Overview mode you can now drag a window to the left or right edge to quickly set up split screen. If you use multiple displays, you can now drag windows between displays while in Overview mode.
Linux (Beta) Updates: You can now control microphone access in Settings for Linux (Beta). By default, the setting will be toggled off and you can change at any time.
Resize Virtual Keyboards: You can now resize your floating onscreen keyboard by dragging from each corner of the keyboard.
Search in ChromeVox: It's now possible to search within the ChromeVox menus to find what your are looking for even faster! Simply open the menu and you'll be placed in the Search field. You can either search for a given item, or use the arrow keys to navigate the menus.
---
Source: The Keyword, Chromebook Help
We are reader supported. External links may earn us a commission.