Facebook's 3D Photos are now supported on many Android devices with single cameras
Back at Facebook's F8 developer conference in 2018, the company first announced a new feature for the platform called 3D Photos. As the name implies, the feature lets you post and view three-dimensional photos in your Facebook News Feed. The photos appear in your news feed like any other photos, but when you scroll past them, tap on them, or tilt your device, the 3D Photo's perspective changes. You can also use virtual reality headsets like the Oculus Go or the Oculus Rift to view 3D Photos. At the time of launch, Facebook allowed users to create a 3D Photo only if you imported a depth map file on desktop and used a dual-camera phone like the latest Samsung Galaxy or iPhone devices. The reason behind the dual camera requirement was that Facebook could create a depth map from the images captured from both cameras. Now, however, dual cameras are no longer a requirement to create 3D Photos on Android phones.
As per a recent blog post from the company, Facebook now uses AI and machine learning to create a 3D Photo without any depth map data. As VentureBeat explains, the company has improved its machine learning algorithm such that it can infer the 3D structure of images without needing depth data. Additionally, the feature now works with selfies, paintings, and complex scenes as well.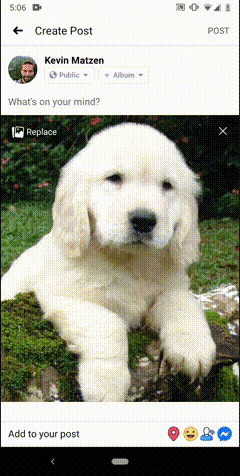 To achieve this feat, Facebook trained a convolutional neural network using millions of pairs of 3D images and their depth maps. Once trained, this neural network is now being used to infer what a 3D image should look like without the accompanying depth map. This neural network can be run on typical mobile processors in a "fraction of a second," making it suitable for the 3D photo feature. Google also enabled a similar feature in AR Core's Depth API late last year, which allows the platform to create depth maps using a single camera.
However, even with the new advancements, the feature has some limitations. As per a report from Engadget on the matter, while any device can now view 3D Photos in the News Feed, the ability to post a 3D photo in Facebook's app is limited to the iPhone 7 and newer, along with a couple of "midrange or better" Android phones, including Samsung's Galaxy Note 8 and Note 9, as well as the entire Pixel lineup excluding the budget-friendly Pixel 3A. Along with this new development, it's also worth noting that Facebook is currently testing an image editing suggestions feature for the photos you post on your News Feed.
---
Source: Facebook AI
Via: Engadget, VenturBeat
We are reader supported. External links may earn us a commission.