Gmail's Smart Compose feature is coming to Google Docs for G Suite users
At Google I/O last year, the company introduced new machine learning features for Gmail and Google Photos. Among these was the new Smart Compose feature for Gmail. The AI-powered feature was designed to provide users with smart suggestions while writing an email. With the launch of the Pixel 3 last year, Google introduced the Smart Compose feature to the Gmail app. The feature was then ported over to all Android devices earlier this year in March. Most recently, we spotted a similar feature being tested on the Gboard app and now Google is planning to introduce it to Google Docs.
As reported by The Verge, the Smart Compose feature is making its way to Google Docs for G Suite users. The feature makes use of Google's machine learning models that study your previous writing to provide suggestions. Adding the Smart Compose feature to Google Docs is expected to greatly improve its performance as it will get access to a larger range of writing styles.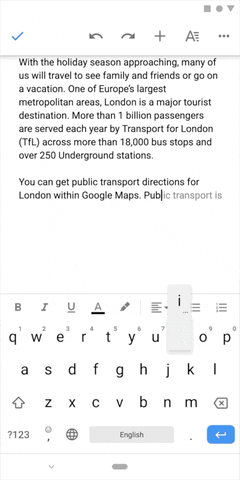 If you wish to try out the Smart Compose feature on Google Docs, you can follow this link and sign up for the beta, but do note that Google is heavily limiting the reach of the feature and it's only available to domain administrators at the moment. Once a domain administrator registers for the beta, the feature will be made available to all users in the domain. It's also worth noting that Smart Compose in Google Docs currently only works in English, but we expect the company to release it to more users and in more languages in the near future.
---
Via: The Verge