Google Discover is getting a dedicated section for immersive Web Stories
The Google Discover feed on your devices is getting a dedicated section for Web Stories, a Snapchat Stories-like feature that was first announced all the way back in 2018. The feature allows publishers to post short, visually appealing pieces of content that users can easily skim through on their devices. Web Stories in Google Discover are already live in India, the US, and Brazil, and they're currently available in English and Hindi. The company plans to extend availability to more regions and add support for more languages soon.
To check out the new feature, open up the Google app on your phone or swipe right on your home screen to open the Google Discover feed. Then, scroll down past the regular news and updates, and you'll spot the new Stories carousel. You can browse through the carousel by swiping left or right, and you can tap on any story you wish to watch.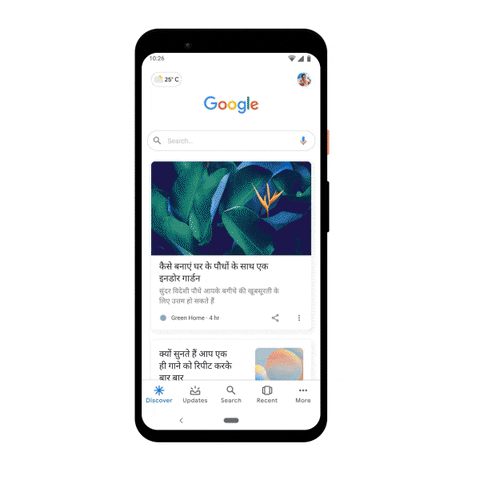 Tapping on a story opens it up, and then you can tap on either side of the screen to cycle through all the pages in the story. Swiping to the left opens up the next story while swiping to the right will take you back to the previous story. However, even though the feature works a lot like the Stories feature on Instagram and Snapchat, it currently doesn't cycle through pages automatically. You have to tap on the right edge of your screen to move to the next page, or it will keep playing the same page in a loop.
Underneath each story on the Google Discover feed, you'll find the publisher's name, a share button, and a context menu button that will let you open up the help center and send feedback. To close an open story, you'll have to tap on the 'x' icon in the top right corner.
In a blog post on the matter, Google reveals that it has been working with a diverse group of publishers and creation tools in the US, India, and Brazil to collaborate on Web Stories and build out its features. But you don't need to be a big name publisher to post your own Web Stories. "Web Stories can be created by anyone, whether you are an individual creator or a publisher, and more than 2,000 websites have already published Stories that have been indexed by Google," the company notes.
To help creators get started, Google has also floated a couple of different tools like the Web Story editor for WordPress, MakeStories, and NewsroomAI. If you're interested in learning more about how you can post your own Stories, you can check out the new stories.google website or watch the Storytime YouTube series.
---
Source: Google India Blog
We are reader supported. External links may earn us a commission.