Google Maps can now use Live View AR to calibrate location and orientation
Google Maps turned 15 earlier this year in February, and the company celebrated its birthday by giving the app a new look and additional features. The app, both on iOS and Android, received a significant update that included a new icon, a redesign for the bottom navigation bar, new transit features, and updates to the AR-powered Live View feature. In case you aren't familiar with Live View, it's an augmented reality feature in Google Maps that lets you view your surroundings in real-time with overlays highlighting the directions to your destination.
In the anniversary update, Google added a new capability in Live View, which lets you search for a destination on the app and see exactly how far and in which direction the place is. Then, in a following update, Google introduced another change in Live View, which gave users faster access to the AR navigation feature. The company added a Live View floating action button (FAB) right at the forefront, allowing you to open AR navigation with a single tap easily. Now, according to a recent report from 9to5Google, the company is adding yet another feature in Live View, which will help you calibrate your location and orientation in the app.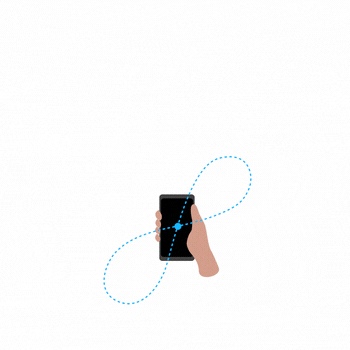 Traditionally, Google Maps makes use of a GPS signal and compass to calibrate your location and orientation in the app. However, GPS has some limitations, especially in dense, urban environments where there is high interference from buildings around you. This is why Google is now making use of the Live View AR feature, in combination with years worth of Street View data, to determine your location and orientation visually. The new feature pops up when you launch Live View, and it asks you to point at buildings, street signs, and other surroundings. This helps Google Maps understand which direction you're facing.
To calibrate your location and improve the accuracy of the blue dot on the map, Google has introduced a new Calibrate with Live View feature. You can use the feature by tapping on the blue dot and selecting the 'Calibrate with Live View' option from the following screen. This launches the same camera UI used by Live View, and you have to pan the camera for a few seconds to calibrate your location. Once the calibration is done, your position in Google Maps should be highly accurate, and it won't jump around. Additionally, the beam which shows the direction you're facing will be replaced by a solid arrow.
If the new Live View feature sounds interesting, you should check it out on your device by downloading the latest version of Google Maps from the Play Store link below. The feature appears to be live on several Google Play Services for AR supported devices running both the stable and beta versions of Google Maps. The feature is currently not available on the iOS version of the app.
---
Via: 9to5Google
We are reader supported. External links may earn us a commission.