Google beefs up its SOS alerts in Search and Maps with near real-time wildfire data
When you search for information about a wildfire in Google Search, you'll now get results that show you key insights about the areas impacted by the disaster. Google today detailed its efforts to use satellite data to beef up its SOS alerts in Google Search and Google Maps. The search engine now shows wildfire boundary maps that allow the public to see exactly where a blaze is and how best to avoid it. Search results will also provide news articles and helpful resources from local emergency agencies.
Google is using satellite data from the National Oceanic and Atmospheric Administration's (NOAA) GOES constellation of satellites and Google Earth Engine's data analysis capabilities. This will allow Google to show the size of a wildfire in near real-time, with data refreshed hourly.
As Google explains:
NOAA's satellites include infrared and optical sensors optimized for detecting "hot spots" or large wildfires on the Earth's surface. We run computations on this data in Earth Engine to identify the affected area.

From there, we create a digital polygon—the red boundary shown on the map in Search and Google Maps—that represents the approximate wildfire impact area. If multiple large fires are active in the same region, people may see several polygons.
When a person searches for something broadly like "wildfire in California" or something specific like "Kincade fire", they will see the approximate boundary, name, location, relevant news articles, and helpful resources from local emergency agencies that pertain to a nearby wildfire. In Maps, users will receive a warning if they approach an active blaze, with an ambient alert that points them to the latest information.
Google said it piloted the new feature in California to determine its usefulness and plans to roll it out to other areas in the world.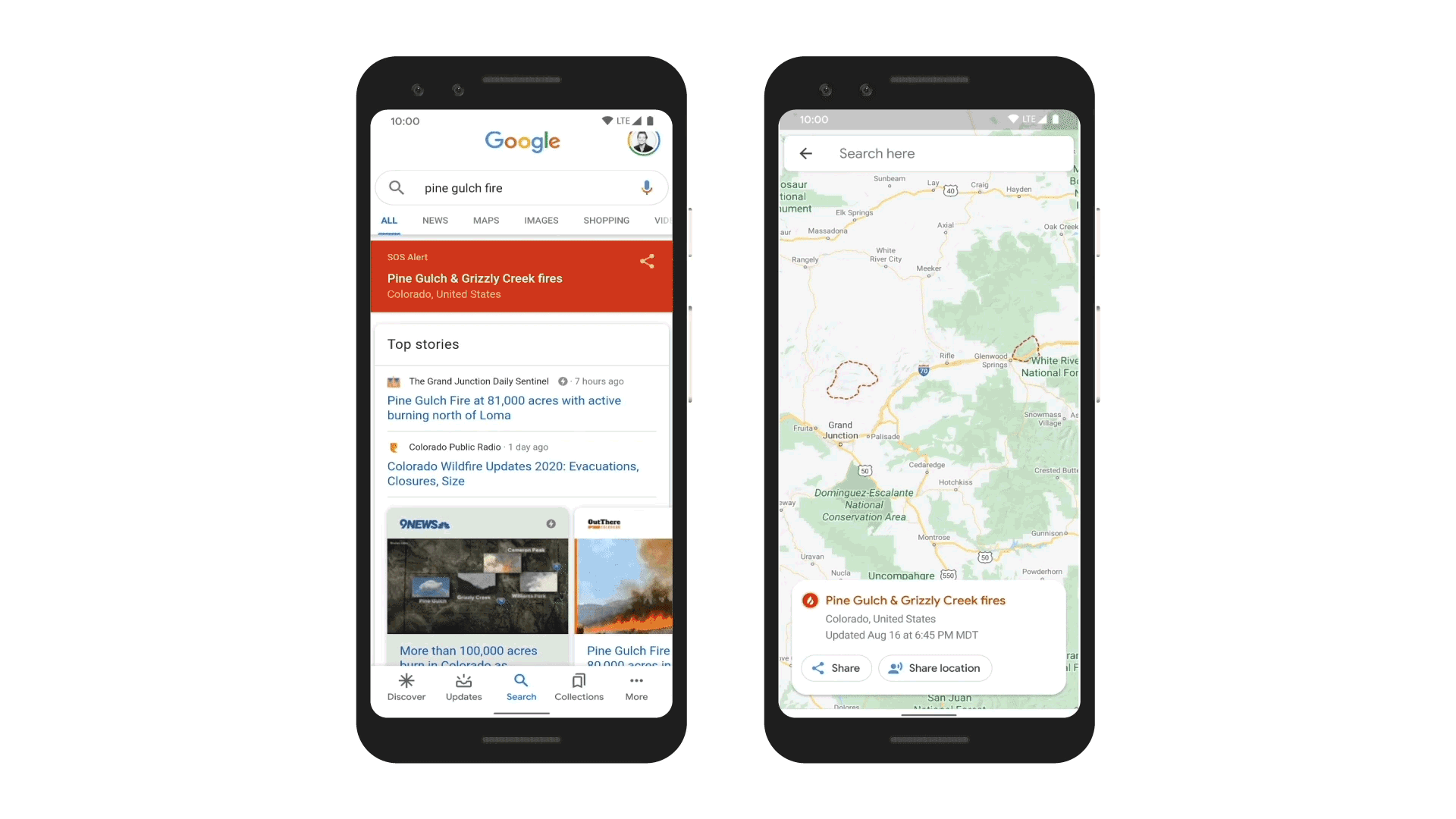 With heatwaves sweeping across parts of the U.S., the threat of fire to human life is high. Firefighters have already battled large blazes in Northern and Southern California, as well as in Colorado. With the help of satellite data, Google is hoping to provide the public with high-quality information, potentially saving lives across these regions.
In addition to providing near real-time wildfire data in Google Maps, Google recently detailed an initiative designed to use Android devices to detect earthquakes.
We are reader supported. External links may earn us a commission.