Google Meet will add hand-raising and background blurring for video calls later this year
Over the last few months, Google Meet has added new features to make it a more viable alternative to popular group video calling platforms like Zoom. To meet the needs of educators, students, and professionals, Google is adding even more features in the coming months, including background blurring.
Google detailed the new features during yesterday's Google for Education event. In a blog post, the search giant said that beginning in October, users will be able to blur or replace backgrounds. Blurring a background is a nice option to have if you don't want someone to see your messy home or if you simply want more privacy.
A hand-raising feature is also coming sometime later this year. The feature is designed to make it easier for teachers to identify students who need help or may have a question without them having to interrupt the group video call by speaking up. And a new polling feature for G Suite Enterprise for Education customers (shown below) will provide a way for teachers to engage students with questions without breaking the flow of the lesson.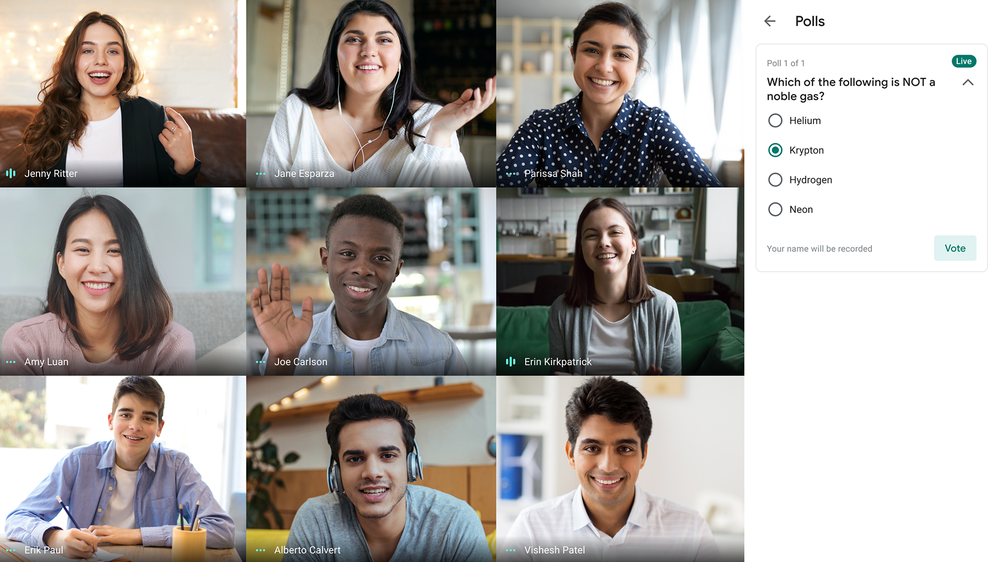 Two more features are coming to Google Meet in September, including:
A larger tiled view with a 7×7 grid so you can see up to 49 participants at once
A collaborative whiteboard with Jamboard in Meet so you can encourage students to share ideas and try creative approaches to lessons
In October, Google Meet will also introduce attendance tracking and breakout rooms, so educators can split classes into small groups.
Later this year, Google said it plans to launch temporary recordings, allowing Education customers to record a meeting and share that recording for 30 days. They also detailed new controls for moderators that will roll out later this year, including the ability to block participants from joining meetings after they've been removed already or after they've been rejected twice, ending the meeting for all participants when class is finished, accepting or rejecting join requests in bulk, disabling in-meeting chat and setting restrictions on who can present, and requiring the teacher to join the meeting first.
With video conferencing applications becoming increasingly popular in the age of social distancing, it's nice to see Google making some much-needed quality of life changes to Meet.
We are reader supported. External links may earn us a commission.