Google rolls out the "Explore" tab in YouTube for Android and iOS
Over the last couple of months, Google has been testing a couple of new features for the YouTube app on Android. Earlier in January, we saw new channel previews in the comments section of the YouTube app, which was followed by new filters for the subscription feed. Just a few days ago, Google officially started rolling out the new filters in the subscription feed and now, the company is adding a new Explore tab to the YouTube app.
In a recent post on the YouTube Community forums, a Googler has revealed that the company is doing away with the Trending tab on the YouTube app and replacing it with a new Explore tab. Google has been testing the Explore tab in the YouTube app for a while and, as its name suggests, it gives you access to Trending videos, along with destination pages for some popular content categories like Gaming, Music, Fashion & Beauty, Learning and more.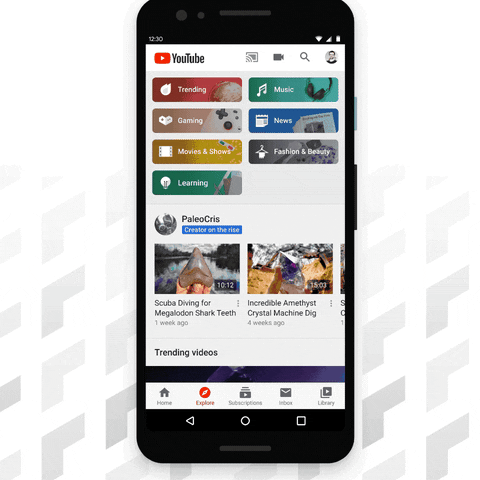 With the latest update for the YouTube app on both Android and iOS, the has started rolling out the Explore tab and it should reach all users in the next couple of days. As you can see in the attached GIF, the Explore tab can be found in the toolbar at the bottom of the YouTube app and it is designed to help you find new videos from YouTube's existing destination pages. Along with the aforementioned destination pages, YouTube plans to add more pages to the Explore tab over time and has requested users for feedback on what they'd like to see in the explore tab.
The new Explore tab will also serve as a home to new features like "Creators on the Rise" and "Artist on the Rise" which will help you discover up and coming creators on the platform. While the update completely gets rid of the Trending tab on the app, its contents will remain a part of the new Explore tab, with its own dedicated section and a quick access button at the top.
What's your take on the new Explore tab? Do you think it'll help you easily discover new videos on the platform? Share your thoughts in the comments section below.
---
Source: YouTube Community
We are reader supported. External links may earn us a commission.