Make Any Room Your Personal Movie Theater With These Mini Projectors
We all want a movie theater to call our very own, but for many of us, the in-home theater is but a dream. While you may not be able to get megaplex surround sound and stadium seating in your house, however, you can still get the theater experience with the help of a mini projector. Each of these projectors is totally portable and can broadcast to extensive screen sizes, making them awesome additions to movie night. Oh, and they're all on sale.
PIQO Powerful 1080p Mini Projector
MSRP: $799
This tiny projector comes with its own tripod to set up and start streaming quickly. With onboard WiFi and Bluetooth, you can stream virtually anything in 1080p HD to a screen size of up to 240 inches. (Pro tip: That flexibility also makes it great for presentations!)
Prima 1080p HD Pocket Projector
MSRP: $799
This pocket-sized projector is about as slim and light as an iPhone 7s Plus and casts a 200-inch cinema-quality image onto virtually any flat surface. Plus, it has an Android processor allowing you to access the Google Play Store to download apps, play games, and stream directly from the projector itself.
UO Smart Beam Laser HD Projector with Accessory Set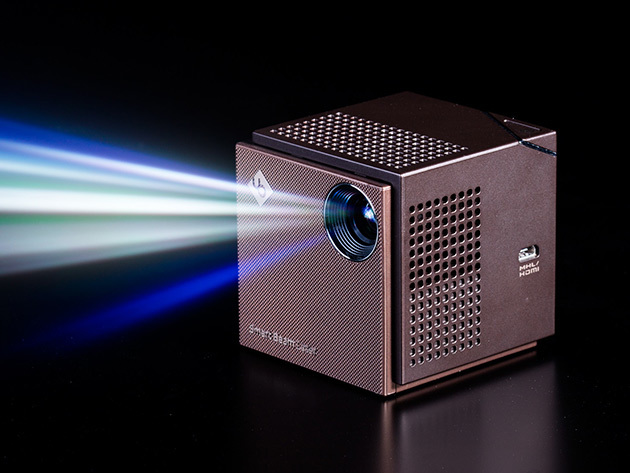 MSRP: $474.99
Just plug your smartphone, tablet, or laptop into this two-inch cube and you can project anything on your screen up to 150 inches in ultra HD. It uses LCoS laser technology allowing it to start and stop without any warm up or cool down time making it extra nice for people on the move.
AAXA S1 Mini Projector for Nintendo Switch
MSRP: $312.99
The best thing about the Nintendo Switch is that you can take it anywhere. However, it's not always easy to pack up everything you need to set it up on every TV you come across. This projector lets you bring an immersive, 120-inch gaming experience to any flat surface — indoor or out.
CINEMOOD Portable Movie Projector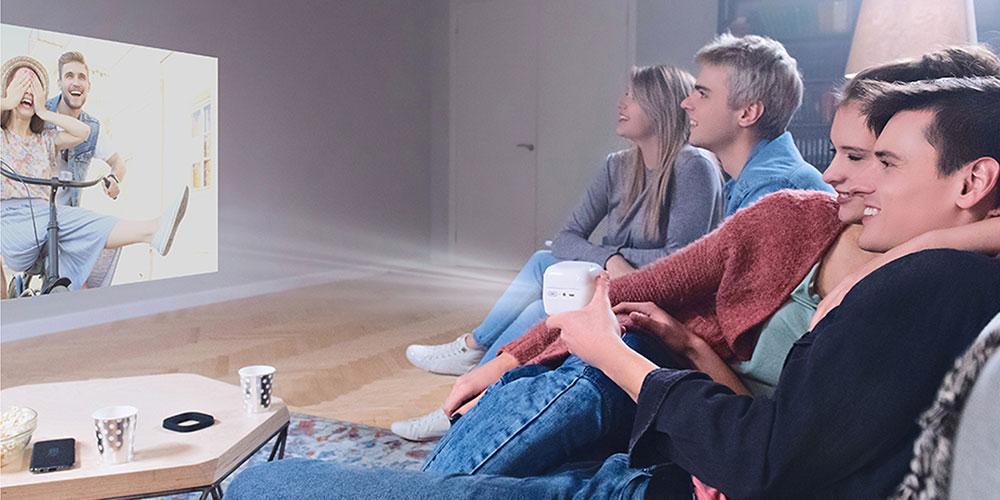 MSRP: $399
This portable projector goes above and beyond the average projector. Despite it's 3-inch size, it features easy-to-use controls and works as a standalone device. You can stream Netflix and YouTube, watch some of the 120 hours of pre-loaded content, or even download Amazon Prime or Netflix video to watch later without WiFi, all from one central hub.
Laser Beam Pro C200 Focus Free HD Portable Projector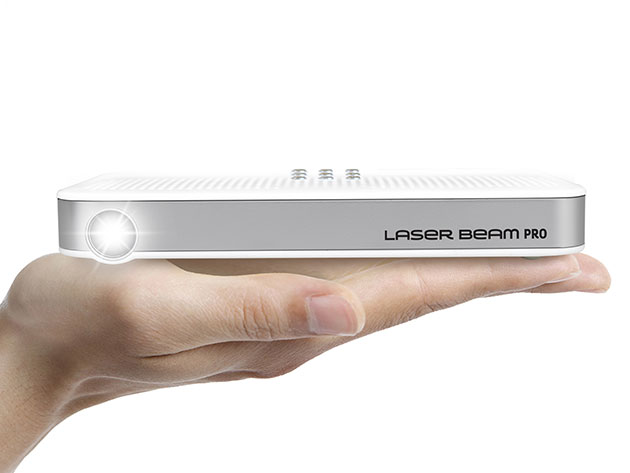 MSRP: $489.90
This 2017 CES Innovation Awards Honoree fits in your pocket. It's compatible with virtually any device, projecting content in 720p HD onto surfaces up to 150 inches. With the Android-powered processor, you can even use it like a computer to surf the web, check your email, stream video, or download apps.
Prices are subject to change.