Nokia's N1 Tablet: Cooked Up Success
Nokia has hit a success with its new N1 tablet, reportedly selling out in just 4 minutes in mainland China. The cheap tablet marks the company's return to business after its sale of the devices and services unit to Microsoft for $7.2 billion. The tablet success is reportedly defined by its little compromise of a package sold to you for an astoundingly cheap price.
The Nokia N1 is a slab of anodized aluminium that makes it look and feel premium enough to fool you into thinking it's more in line with the iPad than the Nexus 7. The devices features a rich 7.9 inch screen with a resolution of 2048×1536 pixels, like that of the iPad Mini Retina. The rounded corners of the device are soft and smooth and it is definitely reminiscent of other popular tablets, as the design language introduced by Apple seems to be picking steam in the tablet world. Considering Nokia's Lumia designs weren't the prettiest, this definitely surprised audiences who were used to their soft and colorful matte backs.
The high-resolution touchscreen display isn't the only impressive specification you'll find here: it features Intel's new Atom Z3580's Silvermont quad-core processor running at 2.3 Ghz, the same found in the ZenFone 2 that was announced last week. This processor has been tested in benchmarks and the results make it comparable to Qualcomm's speed
iest and mightiest, as seen in the graphs provided by Fool, based on data from AnandTech and Intel. The processor was hyped at CES 2015 as a good alternative to Qualcomm's almost monopolistic division of Snapdragon chipsets, which are seen in virtually every big-name flagship these days. However, the Snapdragon does offer better graphics performance which is key when you've got to push so many pixels in such a density-rich display.
The rest of the specifications include 2GB of LPDDR3-1600 for all your multitasking needs, and 32GB of storage. It also features a big 5300 mAh battery and an 8MP rear camera (but this shouldn't be something to look forward to). The fact that this package, which rivals the best specced in both Android and iOS, is significantly cheaper than the currently highest exponents of competing tablets makes for a very attractive product. The device is priced at just $259 for the 32GB version.
It is no secret that a low price on a premium product generates buzz, and increases sales – just look at Xiaomi. With the Moto G came the age of cheap-but-good handsets and Nokia was smart to capitalize on this trend. The Nexus 9 starts at $399, for example, and offers a very similar experience – especially given they both run stock Android. While the Nexus 9 might have an edge in benchmarks, its been reported to have worse performance than those would suggest. Android Police notes that performance is inconsistent, and that "the Nexus 9 can be fast when it wants to be". So in practice, the N1 could be one of the fastest tablets in the market.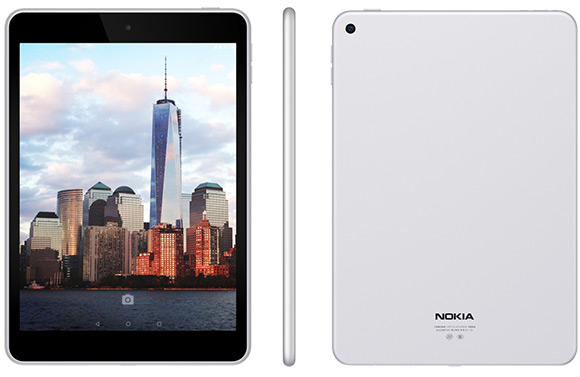 So this package could be just another example that good deals sell. Because that it did, by selling out the first batch of 20,000 in record time. Let's also consider this is Nokia's return to a sector of the market where it profoundly failed at. Its first tablet was the glossy Lumia 2520 that came in 2013, and the Windows RT and high price tag put it against the high-gamma competition that it simply couldn't beat. The device didn't get very many good reviews and it most certainly didn't sell well enough. While they didn't give official figures, it is speculated that it sold at least 30,000 units based on the number of chargers recalled across seven countries. That's after six months, so we could say that selling such a big percentage of that minimum, in 4 minutes, is a very impressive feat.
Nokia's fresh start seems to be a positive one. I am personally glad they acquired such a deserved initial success, as providing a good Android experience at such a low price is not something done by big-names very often. Its brand's strength most definitely had place in its new arising, and let's hope that their incursion into the Android world proves fruitful to consumers that want the best experience for the reasonable prices they should have in the first place. Good job, Nokia.