OnePlus Launcher 4.5.4 adds a swipe down gesture to access OnePlus Shelf
Over the last couple of weeks, OnePlus has released a couple of updates for the stock OxygenOS launcher app — OnePlus Launcher. With version 4.4 of the launcher, OnePlus added a redesigned App Switcher to the launcher with a smaller and more uniform UI and a new quick search gesture to help users find installed apps easily. Version 4.5.2 of the launcher then hinted at a new unified search feature called SearchPlus or OnePlus Scout, which would allow users to search for apps, contacts, settings, shortcuts, and more from a single search bar. Now, the company is rolling out version 4.5.4 beta of the OnePlus Launcher which comes with a new gesture to access the Shelf feature.
According to a recent post on the OnePlus community forums, OnePlus Launcher beta version 4.5.4 is now rolling out to users who have enrolled in the beta program. The update introduces a new gesture for OnePlus Shelf, which will allow users to quickly access the feature by swiping down on the home screen. To enable the gesture, you'll need to long-press on the home screen and then tap on the Home Settings option to head to the launcher settings. Here, you'll have to tap on the new Swipe down to access option and then tap on the toggle in the top right corner to enable the gesture.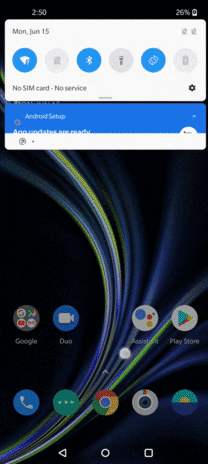 Once the gesture is enabled, you'll be able to swipe down from anywhere on the home screen to bring up the OnePlus Shelf. For the unaware, OnePlus Shelf is the company's alternative to the Google Discover feed, which houses shortcuts to some of your favorite apps and a couple of widgets. Just like the Google Feed, the feature could be accessed by swiping right on the home screen in previous versions of the OnePlus Launcher.
It's worth noting that the new OnePlus Shelf gesture is currently only available in the OnePlus Launcher 4.5.4 beta release on OnePlus 8 series devices in North America and the EU. The company hasn't released any information regarding a wider rollout yet.
---
Source: OnePlus Community forums
We are reader supported. External links may earn us a commission.