Phablets and Their King: No Longer Note-Worthy?
June 4th, 2010. As far as dates go, this was a rather normal day for the world at large. But for people who call themselves "smartphone enthusiasts", this date is of some significance. It is on this day that Dell began sales of the Dell Streak 5, the smartphone with a 5″ display running Android 1.6 Donut (later upgraded to Android 2.2 Froyo). The phone was more of an experiment rather than a product, as it did end up failing in the market with its disappointing sales. While Dell did move on to announce a few more phones going upwards in screen size, they discontinued the humble "little tablet of its time" on August 15th, 2011.
The Dell Streak was indeed rather forward-thinking and ahead of its time as far as screen size is concerned. Dell played a high risk move by releasing a phone with a 5″ display in 2010, at a time when Google's own offering, the Nexus One, was released with a 3.7" display in January 2010. Market and critical reception for the Streak was poor mainly due to qualms with its price, the screen size as well as its resolution of 480 x 800 which offered a poor pixel density of roughly 187 ppi. The phone was often mentioned as being stuck in the middle of two worlds, for it was quite big for a phone and too small for a tablet.
And thus, the phablet was born!
The category was quickly written off by many a reviewer for trying to do too many things at once – and its mediocre performance in all of them. The tablet boom was in full swing in 2010 and 2011, and phones tried to stick within the range of 3.5" to 4" for their screen size. Android still was in its infancy as far as multi-tasking and actually utilizing a bigger screen was concerned, as Android 3.0 Honeycomb itself was launched much later in February 2011. The phablet was born and quickly forgotten.
It wasn't until September 2011 that phablets made a comeback, with the Samsung Galaxy Note spearheading their campaign. Samsung decided to take the screen size risk again, but this time, it improved upon the Dell Streaks mistake by going above the market's expectations in terms of specs. This was very much in the middle of the specs race in Android, so Samsung did a fine job at sending out a mid-year powerhouse. Here is a quick spec comparison between the Dell Streak 5, the Samsung Galaxy Note and the Samsung Galaxy S2 (which was Samsung's flagship released in the same year):
Dell Streak 5
Samsung Galaxy Note
Samsung Galaxy S2
Release
June 2010
October 2011
April 2011
Screen Size
5″
5.3″
4.3″
Screen Resolution
480×800
800×1280
480×800
Pixel Density (ppi)
186.5
284.8
216.97
Processor
Qualcomm Snapdragon S1;
Single core clocked at 1GHz
Exynos 4210;
Dual core clocked at 1.4GHz
Exynos 4210;
Dual core clocked at 1.4GHz
RAM
512 MB
1 GB
1 GB
Internal Storage
16 GB
16/32 GB
16/32 GB
Battery Capacity
1530 mAh
2500 mAh
1650 mAh
As it becomes clear when you compare the Galaxy Note with both the Streak 5 and the S2, it outperforms both in terms of pure specs. This is understandable as the phone was released much later than both, the Streak 5 and the S2. However, the Note cemented itself in the phablet category by offering the best in terms of specs for the year. It worked on providing users with the best of both smartphones and tablets, and did a very decent job at both. Added to this mix was the S Pen, which improved functionality and gave the Note its most distinctive feature which set it apart from numerous other smartphones in 2011. And to take advantage of the larger body to house the bigger display, Samsung massively bumped up the battery capacity. Some part of the capacity increase was nullified due to the 5.3″ S-AMOLED display taking a decent chunk of it with added resolution to boot, but the fact remained that the Galaxy Note was amongst the few and rare phones of 2011 that could actually last a full day under heavy usage.
The Galaxy Note ticked all the right boxes when it came to being a "power user's" choice of an ideal smartphone. It had a big and beautiful screen for multimedia consumption, it possessed top of the line specs and a battery to handle the abuse. What's more, it also came in with some additions in the form of the S Pen as well as a removable battery and a microSD storage, both of which ensured that the device could upscale if the user so desired. And the hungriest of the power users often did want more, meaning the Galaxy Note quickly rose the ranks as a "no-compromise" device. It did cost more than what Samsung's "flagship" S series cost, but the target audience – the power user – was willing to pay more for a device that could handle his or her needs.
Over the years, the Galaxy Note series evolved to become a flagship lineup by itself. Often released in late Q3 of the year while the flagship S series was released in late Q1- mid Q2 of the year, the Note lineup bumped up the specs of the S lineup, thereby creating a cycle of a fresh powerhouse device from Samsung every ~6 months. It did target a different set of consumers than that of the S flagship line, and the audience set also evolved in terms of what it expected from the Note lineup. Here are some more comparison tables, comparing previous Note releases to that years S flagship (Qualcomm Snapdragon based models have been skipped for brevity):
2012
Samsung Galaxy S3
Samsung Galaxy Note 2
Release
May 2012
September 2012
Screen Size
4.8″
5.5″
Screen Resolution
720×1280
720×1280
Pixel Density (ppi)
305.96
267.02
Processor
Exynos 4412;
Quad core clocked at 1.4 GHz
Exynos 4210;
Quad core clocked at 1.6 GHz
RAM
1 GB
2 GB
Battery Capacity
2100 mAh
3100 mAh
2013
Samsung Galaxy S4
Samsung Galaxy Note 3
Release
March 2013
September 2013
Screen Size
5″
5.7″
Screen Resolution
1080×1920
1080×1920
Pixel Density (ppi)
440.58
386.47
Processor
Exynos 5410;
Quad core 1.6 GHz Cortex-A15
+ Quad core 1.2 GHz Cortex-A7
Exynos 5420;
Quad core 1.9 GHz Cortex-A15
+ Quad core 1.3 GHz Cortex-A7
RAM
2 GB
3 GB
Battery Capacity
2600 mAh
3200 mAh
2014
Samsung Galaxy S5
Samsung Galaxy Note 4
Release
April 2014
October 2014
Screen Size
5.1″
5.7″
Screen Resolution
1080×1920
1440×2560
Pixel Density (ppi)
431.94
515.3
Processor
Exynos 5422;
Quad core 1.9 GHz Cortex-A15
+ Quad core 1.3 GHz Cortex-A7
Exynos 5433;
Quad core 1.9 GHz Cortex-A57
+ Quad core 1.3 GHz Cortex-A53
RAM
2 GB
3 GB
Battery Capacity
2800 mAh
3220 mAh
The specs speak for themselves. The Galaxy S series primarily competed against the iPhone and flagship releases from other Android manufacturers, all of which tried to push the boundaries of acceptable display size little by little. The Galaxy Note series, on the other hand, carved out its own niche in the competitive market, combining the multimedia experience of tablets with the connectivity and usefulness of phones–while still going over and above to please those who wanted more. Samsung even marketed it towards business executives, focusing plenty of its advertisement towards the "business & enterprise" end of the consumer spectrum.
There was a reason why the Note lineup quickly grew to become the premier choice for people who wanted to get more work done on the go, without necessarily carrying another device. The S Pen primarily enhanced the workflow of productive tasks as it allowed a different and more precise interaction with the display. The Note lineup also received love from TouchWiz (surprisingly!), which lent it some nifty multitasking features to better utilize the screen real estate. The faux leather feel on the back did attract its fair share of fans, who preferred the "premium yet durable" feel it gave to the phone. Along with these, the option to increase memory of the phone as well as a removable battery gave the Note lineup a very strong hold on the phablet market.
Once Samsung tasted success with the Note, other manufacturers also tried to jump on the bandwagon. The HTC One Max, HTC Desire 816, LG Optimus G Pro, Sony Xperia Z Ultra and even Samsung's own Mega lineup failed to impact the mainstream success of the Notes. But with the release of Galaxy Note 5, the top might just be within reach of others.
As was the case with the Galaxy S6, the Galaxy Note 5 is a far cry from the usual fare that fans have come to expect from Samsung products. While we half expected the "glass back" trend to carry over from the Galaxy S6, it is rather disappointing to see Samsung move away from the power user features in a bid to attract consumers who prefer a more premium feeling phone. The new Note ended up sacrificing some of the most crucial aspects of its popularity in its year-on-year upgrade cycle, while stagnating over a few others.
Here is a Note series comparison to showcase this better:
Note
Note 2
Note 3
Note 4
Note 5
Screen Size
5.3″
5.5″
5.7″
5.7″
5.7″
Resolution
& Pixel Density
800×1280 (285 ppi)
720×1280 (267 ppi)
1080×1920 (386 ppi)
1440×2560 (515 ppi)
1440×2560 (515 ppi)
Processor
Exynos 4210;
Dual core clocked at 1.4GHz
Exynos 4210;
Quad core clocked at 1.6 GHz
Exynos 5420;
Quad core 1.9 GHz Cortex-A15
+ Quad core 1.3 GHz Cortex-A7
Exynos 5433;
Quad core 1.9 GHz Cortex-A57
+ Quad core 1.3 GHz Cortex-A53
Exynos 7420;
Quad core 2.1 GHz Cortex-A57
+ Quad core 1.5 GHz Cortex-A53
RAM
1GB
2GB
3GB
3GB
4GB
Storage
16/32 GB
(expandable to 64 GB)
16/32/64 GB
(expandable to 64 GB)
16/32/64 GB
(expandable to 64 GB)
32 GB
(expandable to 128 GB)
32/64 GB
(non-expandable)
Front Camera
2 MP
2 MP
2 MP
3.7 MP
5 MP
Rear Camera
8 MP
8 MP
13 MP
16 MP
16 MP
Battery
2500 mAh
(removable)
3100 mAh
(removable)
3200 mAh
(removable)
3220 mAh
(removable)
3000 mAh
(non-removable)
The Galaxy Note 5 can still be looked upon as an overall upgrade to the Note 4 in terms of pure specs. However, it did regress on features that had become synonymous with the Note lineup. For starters, the faux leather back has been entirely replaced by a curved glass panel on the back, thereby bringing the Note closer to the Galaxy S6. The loss of the microSD card slot will also be felt by many power users, as Samsung has informed that there will be no 128GB storage option available at this time.
Furthermore, the Note 5 opts for a sealed, non removable battery thanks to its new redesign. While the loss of 220 mAh capacity may not make a lot of difference on screen-on time (especially given that the Note 5 features extra optimizations), it does affect the longevity of the device itself as swapping out a degraded battery is no longer child's play.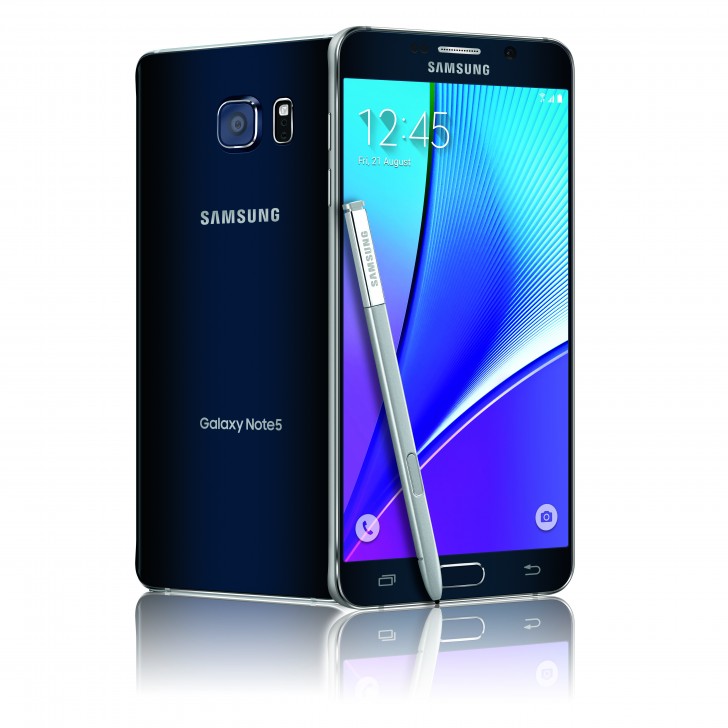 The recent decisions taken with the Note 5 point towards Samsung bowing to mainstream consumer pressure for "beautiful" phones, the same user base that would happily trade battery capacity for phone that's 1mm thinner. This newfound pressure comes with more and more devices moving towards bigger, phablet screen sizes while still retaining the phone moniker. Customers have become acclimatized to bigger screens in their pockets, a far cry from the Dell Streak 5 era.
As a business entity intending to make a profit, Samsung has perfectly executed a 'bait and switch' strategy by offering power users a device they did not know they needed… And when they became comfortable (or even addicted) to it and the device was made popular, the company switched it for, in favor of, a more mainstream device to appeal to the new consumer base.
The Note series is no longer a power user device first. For those who are looking for an absolutely no-compromise device and are willing to drop top dollar for it, there is suddenly a void created by the disappointment from the Note 5. Other manufacturers have taken note, but will they be able to deliver to the needs of this crowd?
Will the real Note please stand up?
We're gonna have a problem here.
Do you think the Galaxy Note 5 is the true successor in the Note lineup? Will any other OEM's capitalize on the demand for a "no-compromise" smartphone? Let us know your thoughts in the comments below!
Feature image possible thanks to DailyInforgraphic
Check Out XDA's Note 5 Forum >>