Samsung's One Hand Operations+ adds a "Virtual Cursor" for better reachability
Over the last couple of months, Samsung has released a few updates for its Good Lock customization suite, which introduced support for One UI 2.0 and additional features for the NavStar module. Now, the company is rolling out an update for the One Hand Operations+ module with a new "Virtual Cursor" for improved reachability. As per a recent post on Reddit, the latest update for the One Hand Operations+ module adds a new virtual cursor for easier one-handed use.
For the unaware, the One Hand Operations+ module offers a set of tools that lets users customize parts of One UI and improve one-handed usability. The update to version 3.2.43 adds a feature called "Virtual Cursor" which, as you can see in the attached image, lets you tap on higher parts of the screen through a cursor that's actually further down on the screen. This new feature is especially useful for Galaxy S20 Ultra and Galaxy Note 10+ users, which feature large screens that could prove to be unwieldy for some users.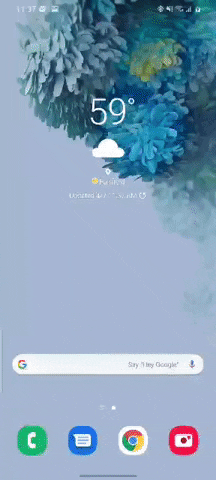 While third-party applications like Reachability Cursor have previously offered such a feature, it's great to see Samsung offering a first-party solution for the issue. If you're interested in trying out the Virtual Cursor on your Samsung device, you can download the latest One Hand Operations+ APK from the APK Mirror link below.
Download Samsung One Hand Operation+ (v3.2.43) from APK Mirror
---
Via: Reddit
Thanks to Max Weinbach for the screenshot and screen recording!
We are reader supported. External links may earn us a commission.