Telegram 5.15 revamps Profiles, adds Fast Media Viewer and People Nearby 2.0
Despite the increasing popularity of WhatsApp around the world, the Telegram messenger remains the top choice for users who are big on privacy. But ensuring user privacy isn't the only factor behind Telegram's rise to success. The app also offers a ton of useful features that make it a better alternative to WhatsApp and it keeps getting even more new features with each successive update. Earlier this year, the app received a major update that introduced a new Theme Editor, a "Send when online" feature, verifiable builds, and much more. Following that, the developers behind the app released an update with new kinds of Telegram polls, an option to tweak the appearance of message bubbles and download progress counters on Android. Now, the app is receiving another update which introduces even more new features. Here's everything that's new in Telegram v5.15:
Updated profile pages
The latest update for Telegram brings a complete redesign for profile pages on the app. As per a blog post from the company, profiles on Telegram are now more functional than ever and make it easy for users to see photos, videos, and links they've shared with anyone on the app. The update also allows users to browse through the profile pictures of their contacts with ease.
Fast media viewer
Browsing through media on the app is much more intuitive following the update, allowing users to just tap on the right or left edges to go to the next or previous media file. The feature works while you're browsing through media in any section of the app, including the aforementioned updated profile pages and the new People Nearby 2.0 section.
People Nearby 2.0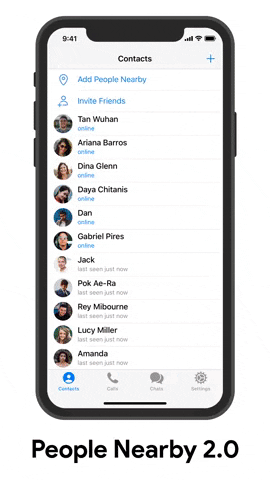 Back in June last year, Telegram introduced a new People Nearby feature to allow users to easily exchange contact info. With the latest update, the feature is also getting a major overhaul and it will now allow you to meet new people. To use the new feature, you can head over to the Contacts section and then tap on Add People Nearby. Here you'll be able to see all the Telegram users nearby who've enabled the new feature. You can also make your own profile visible by tapping on Make Myself Visible and let other people find you using the feature.
Finally, the update also introduces new animated emoji to the app, with 17 animated emoji to choose from. Here's the official changelog for the Telegram v5.15 update:
Access shared media directly from the redesigned profile pages.
Pull down to enlarge profile pictures.
Flip through photos by tapping on their left or right edge.
Tap on your chat partner's profile picture to immediately expand it.
Make your profile visible to others in your area from 'Contacts' > 'Add People Nearby'  and make new friends.
---
Source: Telegram blog
We are reader supported. External links may earn us a commission.