[Update 2: Coming Back] The Google Play Store will no longer show notifications for updated apps
Late last month we came across an issue with the Google Play Store which prevented some newly published apps from showing up in search. The bug only brought up related search results when searching for new apps, even though they were definitely live on the platform. Google addressed this issue shortly thereafter and users were once again able to look up new apps in the store. At the time, some users also reported another bug on the Play Store which stopped showing app update notifications in the notification shade. The bug was noticed shortly after Play Store version 17.4 rolled out to users and since then, more and more users have come up to share the issues on Reddit and Google's Support forums.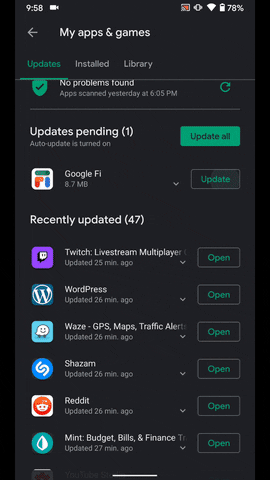 Now, as per a recent report from Android Police, it seems like the missing notifications in the Google Play store is intended behavior. A Google spokesperson reached out to the publication to provide further clarification on the issue and revealed that the missing update notifications were a feature and not a bug. Even though the issue was fixed briefly early in December last year, it remerged earlier this month. As of now, there's no further information from the company regarding its decision to remove Play Store notifications. Users who wish to check the app update status will now have to navigate to the My apps & games section in the Play Store and manually check for updates. Do note that Google won't push notifications after app updates are successful.
Via: Android Police
---
Update 1: Play Store's App Update notifications may be coming back
The Google Play Store no longer shows any notifications for when your apps are updated. This change hasn't exactly been well-received since a lot of people do want to be notified on which apps have recently received an update on their phone. It could be this reason why Google may be planning to bring back the notification.
As spotted in Google Play Store v19.0.12, the strings relating to app update notifications have been added back in, indicating that the feature might be brought back.
<string name="updates_completed_notification_channel">Updates completed</string>\n<string name="updates_completed_notification_channel_description">Notify when an app is finished updating</string>
This is no guarantee that the feature is destined for a return merely because we spotted these strings in the newer version of the app. However, the existence of these strings is a pre-requisite in case the feature is to be re-added back in. We hope Google has had a change of heart.
Thanks to PNF Software for providing us a license to use JEB Decompiler, a professional-grade reverse engineering tool for Android applications.
---
Update 2: Coming Back
Google appears to be finally reverting a very annoying decision. After purposefully disabling app update notifications from the Play Store earlier this year, it was later discovered that Google may be bringing them back. That appears to be happening now as some users are seeing the notifications and associated settings once again. As per usual, the roll-out seems to be a server-side switch, so all we can do is wait. Hopefully, this isn't simply a small test and Google really does bring them back for everyone. Many people were resorting to 3rd-party apps to make up for the feature removal.
Source: Twitter | Via: Android Police
We are reader supported. External links may earn us a commission.