Upgrade Your PS4 with this 2TB Hybrid Hard Drive Kit and 16GB Flash Drive for $99
Once you start purchasing digital downloads for your PS4, storage space can quickly become a problem. Even a 500GB hard drive won't be enough for committed gamers. The Fantom Drives PS4 Hard Drive Upgrade Kit offers a simple solution. The kit contains a Seagate Firecuda 2TB hybrid drive, offering masses of space and speedy performance. You also get a 16GB flash drive and some useful accessories. Right now, you can pick up the whole bundle for just $99 via the XDA Developers Depot.
You might think that 2TB is a little over the top. But when you consider that Read Dead Redemption 2 takes up 98GB alone, this upgrade seems pretty essential.
The Seagate Firecuda SSHD range of drives combines the speed of SSDs with the capacity of traditional hard drives. This 2TB model has a huge 128MB cache, and it's really easy to install. The kit provides a screwdriver, an aluminum enclosure, and a quickstart guide to help you get the job done.
In addition, you get a soft carry pouch for your drive, a micro USB 3.0 cable, and a 16GB flash drive for offline updates and storing game files.
The kit is worth $140, but you can get it now for just $99.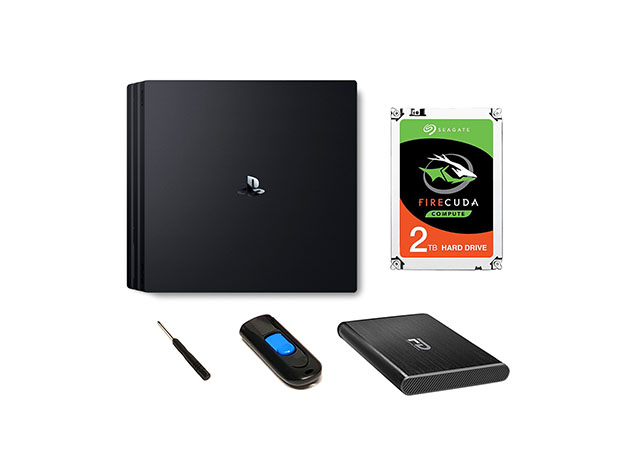 Fantom Drives PS4 Hard Drive Upgrade Kit with 2 TB Ultra Speed Seagate Firecuda Gaming SSHD – $99
See Deal