WhatsApp gets Any.do integration for tasks and reminders, adds call waiting support
Facebook's popular instant messaging app WhatsApp is one of the most feature-rich messengers out there. Even though packs in almost all the features you'd ever need, the developers keep adding more new features with each successive update. We've already seen a glimpse of some upcoming features like a dark mode, disappearing messages and Boomerang-like looped videos. Now, WhatsApp is rolling out two new features that will greatly improve its functionality.
Any.do integration for tasks and reminders
As reported by Android Police, productivity platform Any.do has now announced a partnership with WhatsApp. As a result, WhatsApp users will now be able to create tasks and get reminders from within the messenger. With the latest version of WhatsApp, users will be able to text an Any.do bot things like "Cancel my Netflix subscription" or "Water the plants" to set a reminder. On top of that, the bot also acknowledges forwarded messages from other users so you don't even have to type out a command to set a reminder.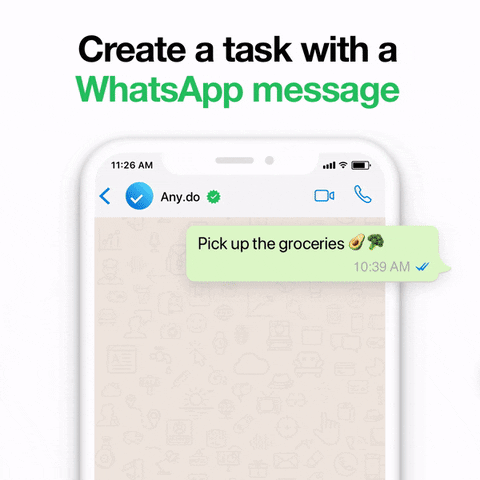 Once you write or forward a message to the Any.do bot, it will ask you if you'd like to get a reminder and when. You can reply with cues like "tomorrow morning" or "today at 6 pm". The bot will then send you a message reminding you of the same when its time. The best part about using Any.do through WhatsApp is that your reminders will automatically be synchronized with your Any.do to-dos.
Additionally, the chatbot will also remind you of the tasks that you didn't set on WhatsApp. The only shortcoming is that you'll need a premium Any.do account to connect to WhatsApp. In case you do, you can head over to whatsapp.any.do or jump into the Integrations section in the Any.do app to set it up.
Call waiting support
According to a recent report from 91mobiles, the latest version of WhatsApp on Android (v2.19.357) is also getting support for call waiting. The feature was previously released on WhatsApp for iOS and it will show you a 'call waiting' notification when someone is trying to call when you're in the middle of a call.
The changelog for the latest update also reiterates the new privacy settings that let you control who can add you to groups and the fingerprint unlock feature. We've already seen these features before, but they now seem to be rolling out to a wider audience. WhatsApp has also fixed an issue that caused battery drain on some devices.
---
Source: Any.do
Via: Android Police, 91Mobiles
We are reader supported. External links may earn us a commission.